2015 Dallas International Film Festival: Raging Bull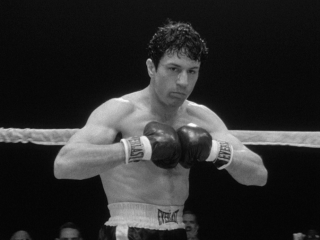 Recognized as one of the best films of the 1980s, one of the best films about boxing, and maybe the best film of Martin Scorsese's career, Raging Bull is a film that he almost didn't make.
Robert De Niro, who portrays 1940s middleweight champ Jake LaMotta, saw drama in the boxer's shaky rise and inevitable downfall. He pushed the sports-hating Scorsese to make the film.
Hinged upon a series of fights that lead to LaMotta's shot at the title, Raging Bull doesn't pull its punches when showing the brutality of boxing, or the insecurity-fueled rage that permeates LaMotta's relationships with his wife (Cathy Moriarty) and brother (Joe Pesci).