7th Annual Chef John Tesar's Burgers & Burgundy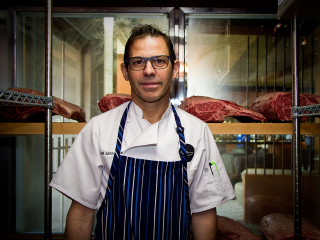 Chef John Tesar is kicking it up a notch by inviting some of his friends from cities across the U.S. to cook with him at Burgers & Burgundy. Each nationally renowned chef has been tasked with the challenge to serve up the best burger sliders and complement them with the burgundy of their choice. Wine, beer, and specialty cocktails will also be available. Some of the chefs participating in this year's event are, but not limited to:
John Tesar (Knife, Dallas)
Blaine Staniford (Grace, Fort Worth)
Matt McCallister (FT33, Dallas)
Kevin Williamson (Ranch 616, Austin)
Kris Morningstar (Terrine Restaurant, Los Angeles)
Justin Bronson (Old Major, Denver)
Tre Wilcox (Cooking Concepts by Tre Wilcox, Dallas)
Joshua Smith (Moody's Delicatessen & Provisions, Waltham, MA)
Jason Campbell (Whole Foods, Dallas)
Brian Luscher (The Grape, Dallas)
Sharon Van Meter (3015 at Trinity Groves, Dallas)
Samir Dhurandhar (Nick & Sam's, Dallas)
The night will be accompanied with entertainment by The Limelight Band. It will also feature an auction fundraiser, "Pawkitecture," where local architecture and design firms have been charged with building modern dog houses.