Knife presents Eat (Red) Drink (Red) Save Lives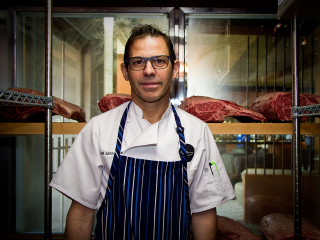 Going the extra mile as Dallas Ambassador Chef for this year's Eat (Red) Drink (Red) Save Lives campaign, nationally-acclaimed chef John Tesar has announced an unprecedented five consecutive fundraising dinners at Knife at The Highland Dallas. The series will kick off with Austin BBQ legend and recent James Beard Best Chef: Southwest award winner Aaron Franklin, cooking for his first time ever in Dallas. The week will continue with a remarkable list of renowned chefs including Alex Stratta (Las Vegas), Naomi Pomeroy (Portland), Tim Rattray (San Antonio) and Kris Morningstar (Los Angeles).
Each exclusive dinner, with a one-night-only special menu, will take place in a specially decorated event room at The Highland Dallas, and be strictly limited to an intimate 40 seats, with ticket prices set at $150, inclusive of beverages and gratuities. Half of each ticket price will go directly to Eat (Red) Drink (Red) Save Lives.
To reserve your seat and purchase tickets, call the restaurant directly at (214) 443-9339 or visit knifedallas.com/events/eat-red-drink-red-save-lives (online purchasing fee does apply).