Dallas Arboretum and Botanical Garden presents Cool Thursdays Concert Series
Many events have been canceled or postponed due to coronavirus concerns. Please check with the organization before going to any event.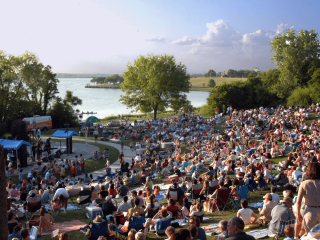 The Dallas Arboretum will once again present Cool Thursdays, a concert series overlooking White Rock Lake on the Martin Rutchik Concert Stage and Lawn. In addition to the cool view of White Rock Lake, attendees can bring picnics and beverages or purchase food from some of Dallas-Fort Worth's favorite food trucks. The gardens are also open to stroll through before the concert to enjoy the floral displays.
Note: Due to postponements caused by the coronavirus pandemic, some concerts will take place on Tuesday evenings.
Fall 2020 Lineup:
September 1: Garth Tribute Live (Tribute to Garth Brooks)
September 3: Turnstiles (Billy Joel Tribute Band)
September 8: The Motowners (A Tribute to Motown)
September 10: The Prince Experience (Prince Tribute Band)
September 15: JT (Tribute to Justin Timberlake)
September 17: The Troubadour Experience (A Tribute to George Strait)
September 24: Highwaymen (A Tribute to the Original Outlaws of Country Music, Willie, Waylon and Johnny)
October 1: Desperado (Eagles Tribute)
October 8: Hot August Night (A Tribute to Neil Diamond)
October 15: The British are Coming (British Rock Tribute Group)
October 20: Dancing Dream (ABBA Tribute Band)
October 22: The Jersey Tenors (A Four Seasons Tribute)
October 29: Emerald City
November 5: Back 2 Back 2020 (An Encore Performance with Rocket Man and Turnstiles)