Wright Bros Brew & Brew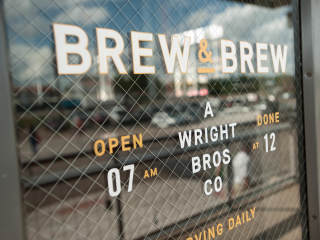 Wright Bros offers well-curated beer taps and well-designed coffee program from the folks behind Flattrack. From beans to benches, the attention to detail rises above your typical coffeehouse or pub. In addition to the handcrafted exterior, the co-founders place particular emphasis on service. Plus, there are some serious service-industry pros behind that bar, including former managers from Jeffrey's, Frank and Home Slice Pizza.
Look for sandwiches and salads in addition to pastries from Easy Tiger. Taps change often.
Address
Wright Bros Brew & Brew
500 San Marcos St. #105
Austin, TX 78702
Hours
Sun: 8 am-midnight
Mon: 8 am-midnight
Tue: 8 am-midnight
Wed: 8 am-midnight
Thu: 8 am-midnight
Fri: 8 am-midnight
Sat: 8 am-midnight