American Airlines Center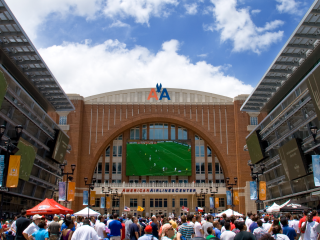 This is where Dallasites gather to cheer their beloved Mavericks and Stars to victory, where they sing along with their favorite bands, and where they gasp aloud at the hard-to-believe stunts performed by Cirque du Soleil. The American Airlines Center hosts a long list of dynamic events year-round. The grand arches draw you in to the state-of-the-art venue situated on the edge of Victory Park. Outside, the AT&T Plaza features impressive audio and video capabilities and can accommodate thousands of fans celebrating anything from sporting victories to New Year's Eve. Inside, unique retractable seating brings fans closer to the action.
American Airlines Center ranked third on Billboard's list of top venues in the United States and ninth on its list of top venues in the world in 2009.