Fernando's Mexican Cuisine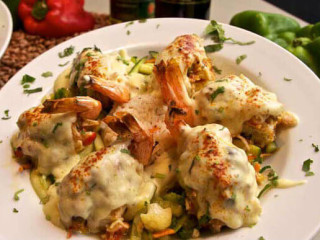 The dining room buzzes with monied energy, probably because Fernando's sits at the corner where Preston Hollow and Bluffview collide. Singles sit at the granite-topped bar, sipping tequila or Anita margaritas; on the weekends, that same bar is packed with people waiting for a table. On the menu are typical Tex-Mex combination plates, plus more regional Mexican specialties and Mexico City-style dishes such as grilled pork tenderloin topped with salsa cascabel and Gulf snapper with tequila lime sauce. Fernando's pinto bean soup is a favorite, made hearty and flavorful with hunks of salty bacon.
Fernando's does complimentary mimosas during brunch, served Saturday and Sunday.
Address
Fernando's Mexican Cuisine
4347 W. Northwest Hwy. #100
Dallas, TX 75220
214-351-9010
Hours
Sun: 10:30 am-10 pm
Mon: 11 am-10 pm
Tue: 11 am-10 pm
Wed: 11 am-10 pm
Thu: 11 am-10 pm
Fri: 11 am-10 pm
Sat: 11 am-10 pm
Good to Know
Editors' Pick
Casual
$$
Catering
Full Bar
Takeout