Accents
Affordability is all the rage at this Dallas shopping staple that recently relocated to Mockingbird Station. Lucy Huang keeps her store stocked with the latest tops, dresses, handbags and accessories — at a fraction of department-store prices, proving that it's possible to be on trend and on a budget. Once a style sells out, it's gone for good, so you won't have to worry about seeing yourself around town.
---
Amanda Sterett
Amanda Sterett's jewelry company was born nearly a decade ago when she started designing the pieces that she wanted to wear. Her designs have been featured in stores such as Anthropologie, Kate Spade, Neiman Marcus CUSP and Calypso, among others, and her jewelry is made by women who have traveled to the U.S. in search of a new life. They make each piece to order in Sterett's Uptown Dallas studio.
---
B.Stellar
What began as a friendship with a common love for art and fashion culminates today in jewelry line b. stellar. Nancy Koen and Misty Incontrera founded the company in 2013, and their jewelry is a striking blend of natural and modern. Every piece is handmade in Dallas and beautifully unique. You can find their designs in local boutiques such as Sussie's, Lou Lou, Nasher Sculpture Center Store and Stanley Korshak.
---
Baby Bow Tie
Kat Armstrong founded Baby Bow Tie in 2013 after her son Caleb was born. Inspired by her growing little gentleman, Armstrong set out to create affordable, high-quality accessories for baby boys, and now her bow tie line includes dog accessories too. Baby Bow Tie is carried locally at Kidswap and Tiny Hiney Baby Boutique, as well as Neiman Marcus and Nordstrom.
---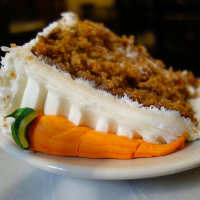 Bread Winners Cafe & Bakery
Bread Winners may be famous for weekend brunch, but it's worth a visit at dinner as well. Nothing complements comfort better than dessert, and the cakes, pies and assorted pastries are a cut above. The success of the McKinney Avenue location spawned clones at Inwood Village, Plano and NorthPark Center.
---
DMA Museum Store
The DMA Museum Store is filled with merchandise as artful as the works in the galleries. Find art-related books, contemporary home accents, jewelry, kid stuff, and prints and postcards. All purchases support the exhibitions, educational programming and activities of the Dallas Museum of Art, and DMA Partners receive a 10 percent discount on all regularly priced store items.
---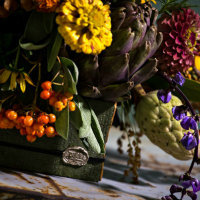 Dirt
Dirt, which occupies a storefront in the Bishop Arts District, is known for hip, earthy and edgy floral design. Shop for sculptural succulents in adorable cans, boxes or sliced logs. Dirt also ships nationwide and does weddings and other special events.
---
Dude, Sweet Chocolate
Katherine Clapner creates extreme chocolate confections, from chocolate almond salumi and Tub of Love hazelnut chocolate spread to truffles, bars, sauces and "chocolate crack." Special holiday items include chocolate skulls for Halloween and a lifelike replica of a heart for Valentine's Day. In addition to the original shop in Bishop Arts District, Clapner has locations in Preston Center and Fort Worth.
---
Ellis Hill
This Highland Park Village stationery shop is bursting with beautiful paper goods and gifts. The store offers everything from invitations to place cards to envelopes in techniques such as embossing, thermography and letterpress. Clients can choose from about 30 vendors for custom paper work, and Ellis Hill carries a sweet selection of monogrammed linens and trays.
---
Foot Cardigan
When Dallas startup Foot Cardigan launched in June 2012, it was one of the first sock-of-the-month businesses in the U.S. Here's how it works: For $9 a month, Foot Cardigan delivers a new pair of delightfully random socks directly to your doorstep. The unique service for men and women has been such a big hit that they've since launched Whippersnappers, a kid's sock subscription service.
---
The GEM
Owners Mary Kathryn Bass and Leslie Needleman, CHHC, toiled in the kitchen to come up with the perfect recipes that would be as delicious as they are nutritionally sound. The GEM serves organic handmade juices and smoothies, as well as snacks such as kale, hummus, quinoa and a soup of the day.
---
The Gypsy Wagon
The Gypsy Wagon carries an eclectic selection that includes handmade jewelry, gifts made from recycled materials, worldly home decor, country-chic clothing and vintage cowboy boots. Think embroidered pillows, recycled glass tumblers, feminine printed blouses, silver cuffs and leather bracelets, and monster tees for the tots.
---
KidBiz
Owners Janet and Jay Finegold opened this fashion-forward children's boutique more than 20 years ago for moms and their kids — boys and girls — to shop for new wardrobe essentials. Baby brands include Ralph Lauren, She Bloom, Ella Moss, Giggle Moon, Ouch and Pacimals; for teens and young adults, TheBiz next door carries 7 For All Mankind, James Perse, Free People and Steve Madden.
---
Life of Riley
Billy Milner and Jerod Dame opened this lifestyle shop in Deep Ellum in summer 2014. They offer "polished industrial" tables; upholstered pieces such as fabulous sofas made from a patchwork of vintage fabrics; decorative pillows and other home accents; works from local artists and vintage European maps; and myriad candles, including scents created especially for the shop.
---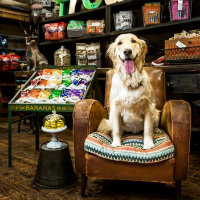 Lucky Dog Barkery
Lucky Dog Barkery is where pet owners go to spoil their dogs with all kinds of natural treats. Although grammy's pot pie, wing-a-lings and peanut butter biscuits sound tasty enough for human consumption, these goodies are for pets only. Lucky Dog Barkery also carries a large variety of dog toys, leashes, stylish clothes and cute collars.
---
Mizzen+Main
SMU grad Kevin Lavelle launched menswear brand Mizzen+Main in July 2012 with the goal of innovating classic menswear. Mission accomplished. Mizzen+Main's washable, moisture-wicking, wrinkle-free dress shirts have become favorites of athletes and CEOs alike. Since then, the brand has grown its product offerings to include casual henleys, denim and blazers.
---
Need
In just one year, Matt Alexander's ecommerce shop has become a go-to destination for stylish guys (and it caught the attention of New York Fashion Week's Men's Day). The site specializes in hard-to-find-online, high-quality menswear that suits the seasons. But Need has more than apparel. Look for coffee, literature, furniture, film, artwork and more in the curated monthly collection.
---
Neighborhood
The Bishop Arts District store owned by Erin and John Hossley offers a mix of home decor, furniture, art and gift-worthy objects. Products range from locally made designs to custom-made pieces, and there are interior designers and an architect on staff. So whether you're looking for a set of midcentury modern chairs or a bathroom renovation, Neighborhood is a must-stop.
---
Nicole Kwon
"There are lots of shopping options for women in Dallas, but not many for the girl who isn't into glamour," says fashion designer Nicole Kwon. "If you want the young, hip, European style with bohemian and contemporary flair, it's a bit more difficult to find at an accessible price point." So Kwon set about to change that at her West Village shop.
---
Piermarini
Young Texas stylemaker John Piermarini had a vision to bring affordable yet edgy designs to Dallas. At his Snider Plaza shop, he offers men's and women's clothing and accessories, but he orders only one size of each piece and doesn't reorder, so if you see something you like, you'd better buy it before it's gone. He has also launched a line of beauty products.
---
Q Clothier and Rye 51
Q Custom Clothier moved to bigger digs in West Village and added a sibling called Rye 51 with more casual sportswear from Rag & Bone, Todd Snyder, Steven Alan and laid-back custom threads. The man-friendly concept also includes a pool table, TVs and ultra-luxe leather chairs for lounging, as well as complimentary whiskey while you shop.
---
Scardello Artisan Cheese
Although Scardello does sell some side items and a trinket or two, and you can take a class or buy a sandwich, it's really all about the cheese. You can buy in portions as small as a slice, as opposed to the pre-packaged chunks sold at grocery stores. Scardello brings in small-production, hard-to-get-cheeses. More than half the cheeses in the case are domestic, many from Texas.
---
Sussie's
Owner Rory Boyd does more than just operate this women's boutique in Frisco. She serves as personal shopper, friend and, sometimes, therapist to her fiercely loyal clients, who turn to her to lift their wardrobe and their spirits. Boyd carries lines such as Rebecca Taylor, Trina Turk, Milly, Joie and Vince, as well as jewelry from local designers such as b. stellar.
---
Tootsies
Tootsies has all the conveniences of a department store but the personal attention of a luxury boutique, thanks to savvy in-house stylists. Shop for contemporary styles by Theory, Parker and Elizabeth & James as well as cocktail and formal gowns from the likes of Marchesa Notte, Sue Wong and Theia. The shoe and handbag salon is stocked with Chloe, Guiseppe Zanotti and Tory Burch.
---
Trousseau
Proprietor Nasrin Hormozi has years of experience helping women look their best — starting with the all-important, well-fitting bra. Her lingerie selection — bras, panties, pajamas, loungewear, gowns and body shapers — ranges from practical to sinful and everything in between. Brands include Chantelle, Simone Perele, La Perla and many more.
---