2015 John Wayne Film Festival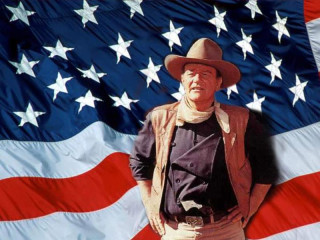 The 5th annual John Wayne Film Festival will once again call Dallas home. The four-day festival, chaired by Kara & Randall Goss and honorary chairs Anne & Steve Stodghill, will feature screenings of some of Wayne's classic feature films, question and answer sessions with Wayne family members and co-stars and parties celebrating the John Wayne heritage and legacy.
The festival will be hosted at Highland Park Village and kicks off on Thursday, September 24 with a VIP screening at Highland Park Village Theatre, followed by a VIP dinner and live auction at Bistro 31. The auction will be live online from September 3 to 23 transitioning to a live auction on the evening of the VIP Dinner. The online auction can be accessed visiting www.johnwayne.org. Auction items include an image of John Wayne in The Searchers from the John R. Hamilton Collection, a John Wayne .45 pistol and custom case by America Remembers, a John Wayne guitar and case by ASG, a painting of Grace Kelly by Russell Young, and many more one-of-a-kind items.
All proceeds from the festival will benefit the John Wayne Cancer Foundation.
Schedule of Events
Thursday September 24
Highland Park Village Theatre
The Shootist - 6:30 pm (VIP Screening)
The Cowboys - 9:15 pm
LOOK Cinemas
True Grit - 6 pm
Rooster Cogburn - 9:15 pm
Friday September 25 (Opening Night)
Highland Park Village Theatre
In Harms Way - 6 pm
The Searchers - 9:30 pm
LOOK Cinemas
She Wore a Yellow Ribbon - 3:30 pm
The Cowboys - 6 pm
Fort Apache - 8:40 pm
Saturday, September 26 (Closing Night)
Highland Park Village Theatre
Red River - 6 pm
The Barbarian and the Geisha - 9:15 pm
LOOK Cinemas
The Fighting Seabees - 3 pm
The Flying Tigers - 6 pm
Flying Leathernecks - 8:20 pm
Klyde Warren Park (free public screening)
Sunday September 27
LOOK Cinemas
The Sea Chase - 1 pm
How the West Was Won- 4 pm