2017 Bastille on Bishop
All events are subject to change due to weather or other concerns. Please check with the venue or organization to ensure an event is taking place as scheduled.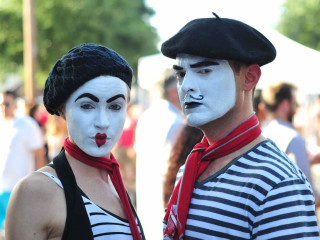 Bishop Arts District will present the 8th annual Bastille on Bishop celebration, an evening full of entertainment, food, wine, petanque, and wonderful people to celebrate the beautiful country of France and their traditions. Oak Cliff was the original settlement of the French colony called La Reunion, and the neighborhood has picked up the mantle with great pride and love for the French culture.
The base ticket is $25, and it includes a souvenir wine glass and two tokens. The tokens may be redeemed for food or drink (beverages and most food items cost one token each). Additional tokens may be purchased at each bar at the event. The only way to consume alcoholic beverages (cocktails, wine or beer) in the street at the festival is with our souvenir wine glass.
New this year is a VIP experience, where guests can enjoy a venue made for those who need to escape the action for a bit. You'll have a private bar, seating, restrooms, and air conditioning, as well as a buffet of light hors d'oeuvres from 6-9 pm.
For those not wanting to partake of alcoholic beverages, no glass purchase is required; tokens will only be needed for food purchases. A six-pack can be purchased online and picked up at will-call. Individual tokens will be available for sale at each bar and at will-call.
Well behaved children and pets are welcome. Must be 21 to consume alcohol.