Nasher Sculpture Center presents 'til Midnight
All events are subject to change due to weather or other concerns. Please check with the venue or organization to ensure an event is taking place as scheduled.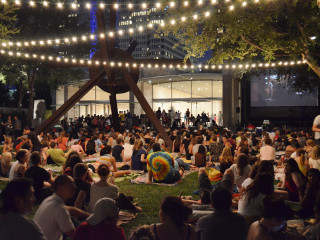 'til Midnight at the Nasher presents live outdoor concerts in the Nasher Sculpture Center Garden. At each event, a variety of national and regional music talent perform followed by a film screening. Guests have the opportunity to attend the Nasher for free, taking in the museum's renowned collection of modern and contemporary art as well as contemporary exhibitions by some of the most important artists working today.

Guests can enjoy museum tours, activities, and games throughout the Nasher lead by the museum's Visitor Experience team. The Nasher Cafe will be open until 11 pm. The Nasher Store also stays open late during 'til Midnight.
Schedule of performers
January 18: Concert - Kirk Thurmond and The Millennials and Remy Reilly; Movie - Clue
February 15: Concert - Rhett Miller; Movie - Black Panther
March 15: Concert - The Black Lillies and Broken Baby; Movie - Incredibles 2
April 19: Concert - Claire Morales and Tippy Balady; Movie - Big Miracle
May 17: Concert - Johnny Stimson and Seysei; Movie - Steel Magnolias
June 21: Concert - The Wild Frontiers and IDT; Movie - To Wong Foo, Thanks for Everything, Julie Newmar
July 19: Concert - Silas Nello, Salim Nourallah with Chris Holt, and Oscar DeLaughter; Movie - The Goonies
August 16: Concert - Sam Lao, Paul Russell, and Ruslan; Movie - Happy Feet
September 20: Concert - Pool Lights Music, PKTBK, and Stro Elliott; Movie - Men in Black
October 18: Concert - Limelight Music; Movie - Sixteen Candles (16th anniversary of Nasher Sculpture Center)
November 15: TBD
December 20: TBD