Nasher Sculpture Center presents 'til Midnight
All events are subject to change due to weather or other concerns. Please check with the venue or organization to ensure an event is taking place as scheduled.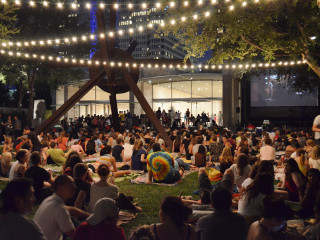 'til Midnight at the Nasher presents live outdoor concerts featuring a variety of national and regional musical talent paired with film screenings in the Nasher Garden. Guests have the opportunity to visit the Nasher for free, taking in the museum's renowned collection of modern and contemporary art as well as contemporary exhibitions by some of the most important artists working today.
Plan your evening by ordering a picnic basket from Central Market/H-E-B or enjoy a cash bar, grab and go snacks, and street tacos provided by Wolfgang Puck Catering. Steel City Pops will also be selling all-natural popsicles in seasonal flavors.
Schedule of events
March 16 - Concert: Psychic Ills with opening act Francine Thirteen. Film: Cooley High
April 20 - Concert: Martin Rev with opening act In Mirrors (DJ set by Twisted Wires); Film: Leaning into the Wind: Andy Goldsworthy
May 18 - Concert: Vagabon with opening act Julie Byrne; Film: Harold and Maude
June 15 - Dallas Arts District Summer Block Party. Concert: This Will Destroy You; Film: Love, Simon
July 20 - Concert: Julianna Barwick with opening act Mary Lattimore; Film: The NeverEnding Story
August 17 - Concert: Tess Roby; Film: The Straight Story
September 21 - Concert: Negative Gemini and Luna Luna. Film: The September Issue
October 19 - Concert: Exploded View. Film: Monster Squad
November 16 - Concert: Chulita Vinyl Club. Film: Hidden Figures