Nasher Sculpture Center presents 'til Midnight at the Nasher
All events are subject to change due to weather or other concerns. Please check with the venue or organization to ensure an event is taking place as scheduled.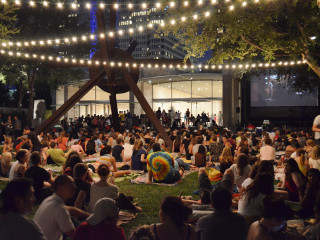 'til Midnight at the Nasher presents live outdoor concerts featuring the best in regional music talent and film screenings in the Nasher Garden. Guests can also engage in progressive tours and to view the permanent collection and special exhibitions. The Nasher Cafe by Wolfgang Puck offers bar service, food for purchase, and offers grab & go snacks the night of the event.
Schedule of events
May 20: Huo Feng Trio (6:30 pm); Cabus (7:10 pm); Goisagi Daiko (8:10 pm); Phantomelo (8:50 pm); screening of Moana (9:30 pm)