The Rustic presents Mardi Craw Party
All events are subject to change due to weather or other concerns. Please check with the venue or organization to ensure an event is taking place as scheduled.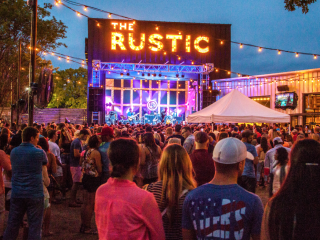 The Rustic is celebrating Mardi Gras bayou-style by serving up authentic Cajun cooking and cocktails. In addition to its delicious menu of farm-fresh, homestyle dishes, The Rustic will be offering its twist on Louisiana-inspired food and drink staples.
Tomar and the FCs will be headlining the party between sets by DJ Christy Ray, who will be spinning New Orleans-inspired tunes. While partygoers listen to live music and chow down on Louisiana's best, they can load up on complimentary Mardi Gras swag, get their face painted, and capture the moment with free photos by Photo Wagon.
VIP tickets include a buffet featuring a New Orleans' inspired menu from 5:30-7:30 pm, dedicated servers, access to a VIP lounge and a private cash bar, and access to a VIP viewing section directly in front of the main stage.