The Rustic presents Mexican Independence Day Fiesta
All events are subject to change due to weather or other concerns. Please check with the venue or organization to ensure an event is taking place as scheduled.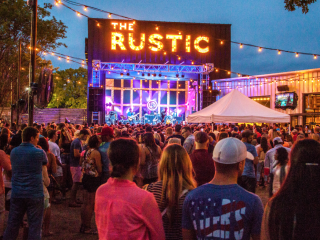 The Rustic is partnering with Four Corners Brewing Co. to celebrate Mexican Independence Day. The celebration will include the Jam & Toast Brunch from 10 am-2 pm and Sunday Supper from 2 pm to close. Guests can pair these delicious family-style meals with one of Four Corners specialty beer cocktails – Local Buzz Beer, Deep Eddy Lemon Vodka and a fresh lemon wedge – available only during the event.
Live music will kick off at 12:30 pm with Francisco Divera and friends. DJ Christy Ray will take over at 4 pm, spinning Latin-inspired music during Sunday Supper. Dallas-based Four Corners Brewery will keep the fiesta going with a DJ, unique Four Corners brews and Lotteria Live starting at 6 p.m. – a game similar to bingo, but instead of numbers and letters, it's played using images.

Rounding out the day, Mexico City-based Peregrino will take the stage at 7 pm. Peregrino is an Americana band that was formed in Mexico City. Due to the band members' musical influences (two from the U.S. and two from Mexico) their style incorporates elements of folk, country, rock and blues. Their style is highlighted by a heavy focus on lyrics, melody and vocal lines. In very little time their unique style has pushed them to the forefront of the Mexico music scene.