The Rustic presents Vinyl Brunch with Spinster Records
All events are subject to change due to weather or other concerns. Please check with the venue or organization to ensure an event is taking place as scheduled.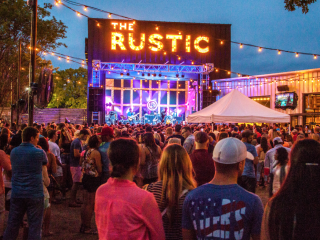 The Rustic will host the first event of their vinyl brunch series featuring DJ David Grover spinning vinyl all morning long while we serve up great cocktails and family style brunch.
Born in Los Angeles and raised in Honolulu, Grover fronted the '90s Paisley Underground/Power Pop band, Loud Sugar. He also ran the Indie label Angel Dust Records, DJ'd and hosted "Twister," a seminal dance music night in L.A, and was the lead singer/songwriter for LA Indie bands Drop and The Fizzies.
Starting in the late '90s, Grover took his industry knowledge to big box retailers like Circuit City and Best Buy to infuse his perspective and management skills into their organizations. This odd juxtaposition of skills and experiences brought about the Spinster Records concept: create a unique space for live music and vinyl record culture in a place where people can exchange ideas and the love and passion of music.