Giacomo Vico Wine Dinner The Landmark Restaurant
Many events have been canceled or postponed due to coronavirus concerns. Please check with the organization before going to any event.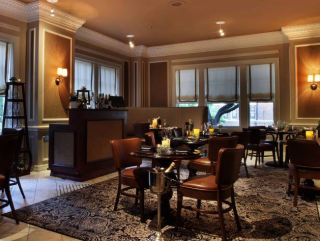 The Landmark Restaurant at the Warwick Melrose Hotel, which is celebrating its 90th anniversary this year, invites you to spend an evening in the rolling hills of Piedmont, Italy, when it hosts a five-course dinner featuring wines from the legendary Italian winery, Giacomo Vico.
The cellars of the Giacomo Vico Winery date back to as far as 1890 when the namesake of the winery, Giacomo Vico, started producing and selling wine. Now run by his great grandsons, Giacomo Vico uses grapes grown locally in the vineyards of the Roero region of Piedmont.
The Menu Includes:
First Course
Goat and Pear Crostini
Texas Goat Cheese with Wine Poached Pear Butter on a Pistachio Black Pepper Cracker
2008 Salvano Jhamel Brut
Second Course
Smoked Salmon and Egg
House Cured and Smoked Salmon with Classical Sides Folded in a Deviled Egg
2012 Giacomo Vico Langhe Chardonnay
Third Course
Sea & Sky Slider
House Smoked Duck Ham with Tea Poached Shrimp Salad, Guava Aioli, Wine Braised Shallots and Asian Pear served in a Brioche Slider
2011 Giacomo Vico Langhe Nebbiolo
Fourth Course
Pig Wings & Blue Formaggio
Hog Shanks Buffalo Style with House Ancho Sauce, served with a Blue Cheese Stuffed Conchiglie
2008 Giacomo Vico Barolo
Fifth Course
Hazelnut Soufflé, served with Chocolate and Fig Biscotti
Giacomo Vico Birbet