Frisco residents rally city officials to build its first real animal shelter
Citizens for Animal Protection
Frisco is well known as one of the fastest-growing cities in not only Texas but also the U.S. - and yet still does not have an animal shelter.
But residents are working to change that, and one of the key steps will be to persuade the city to put a shelter up for a vote in Frisco's upcoming bond election in May 2023.
First: They must persuade a city committee to nudge the idea on to Frisco's City Council.
That'll happen on November 14 at 5:30 pm when a proposal is presented to Frisco's Citizen Bond Committee, which reviews funding proposals for city projects.
It's been a hard-fought battle for animal advocates in Frisco such as grassroots group Frisco's Pet Project, who've diligently petitioned a reluctant city council since 2018 to adopt policies addressing the health, safety, and welfare of animals and pets in Frisco, including a municipal animal shelter.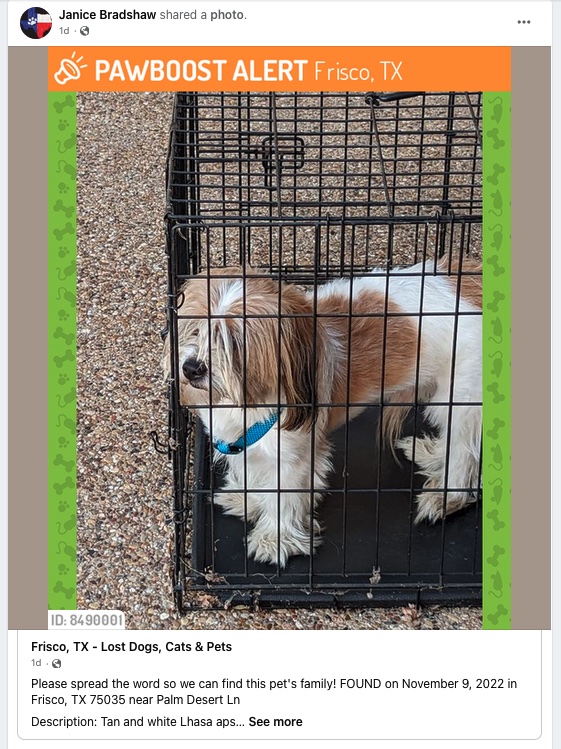 [Above, an example of one of the various grassroots groups that have formed to network lost and found pets in Frisco.]
"Frisco Animal Services currently falls under the Police Department," says Frisco's Pet Project founder Marla Fields. "When lost or stray animals are found, they're currently being transported to Collin County Animal Services, the county shelter, which struggles to provide space for 13 cities and unincorporated areas."
"Frisco also lacks a temporary-holding space for animals found, forcing them to sit in the back of a truck while officers search for owners," Fields says.
Frisco residents have been left to personally rescue pets and try to find owners themselves, to avoid the drive to McKinney.
"There are more than five social media pages dedicated to reuniting pets with owners in an attempt to avoid adding to the shelter's intake," Fields says. "Trying to find a lost pet or posting photos of pets you've found on all these various sites is nerve-wracking and distressing when you've lost a pet."
An animal shelter has benefits to the community that extend beyond serving as a place to house lost and found animals.
"The obvious benefit is to reunite more pets with their owners faster, get animals off the streets, and provide a safe place for lost and injured animals," Fields says. "But a shelter can also host community outreach programs, in-house workshops, including low-cost shots and spay & neuter clinics, micro-chipping, and especially volunteer opportunities, which the city itself calls 'the heart of a community'."

Of the 12 largest cities in Texas, Frisco is the only city without an animal shelter.
Frisco's Mayor and City Council have previously stated that an animal shelter could only be built if put on a bond.
"Whether you personally agree to the idea of having a shelter or not, I think it's only fair that an animal shelter be put on the ballot for residents to vote on in May," Fields says.