CultureMap Emails Are Awesome
Get Dallas intel delivered daily.
We will not share or sell your email address.
Whether your style is dating other passionate voters or convincing unregistered citizens to sign up with your charm and good looks, Bumble just set a target for you. To make sure the midterm elections are getting as much attention as possible, the Texas-based dating app is adding a "Voter" Badge for users who commit to vote in the upcoming race.
"We hope this will lead to interesting, impassioned, and civil conversations," says a press release by Bumble celebrating National Voter Registration Day in partnership with I Am A Voter. The Austin-based company adds that it's supporting an existing user behavior. "We found that last year, those on Bumble within the United States selected Filters such as 'Dating Intentions,' 'Politics,' 'Religion,' and 'Family Plans' most widely on the app to prioritize finding a partner with shared values and intentions."
Voters already have a year-round way to show their vigor on their Bumble profile, in the "interests" section, which also adds badges ranging from activism to hobbies and favorite things. In this case, the existing "Voting Rights" Badge implies a viewpoint in current discussions about voting practices — great for those who are really informed, but some users who are excited to vote may not feel equipped to discuss those systems in detail. The registration badge keeps it simple; either you are registered to vote, or you are not. Users will see a "profile" while swiping that will allow them to add the badge.
This badge is not new to the Bumble user interface. In 2016, the dating app rolled out a feature to declare support (and apathy) for one party or another via a temporary sticker, followed by an "I am a voter" Badge in 2018 that went mostly unpublicized, although OkCupid got a little more attention with its own nearly identical feature in 2020, perhaps because of the more hotly contested race.
Some activist groups have used dating apps for similar purposes even without the handy feature, sending members out with messages on their profile inviting other users to match for information or encouragement. On a more self-preserving level, it's not uncommon to come across an earnest profile encouraging potential matches to swipe left (eliminate themselves from consideration) if they voted for a particular candidate. With the use of a Badge, users can filter preferences through the system, saving a lot of time reading potentially annoying declarations or matching with someone who didn't think to bring it up.
Similar news almost always creates some level of moral panic in news stories, urging young daters to look past their political biases. But political values affect everything from how to raise kids to how to make them — or not. Joan from accounting is probably willing to expound on her differing political views, if you'd rather come home and debate something simpler, like whose favorite show goes on tonight.

CultureMap Emails Are Awesome
Get Dallas intel delivered daily.
We will not share or sell your email address.
A Dallas-area man has been charged for allegedly scamming Chinese investors out of more than $26 million in a real estate scheme.
According to a release from U.S. Attorney for the Northern District of Texas Chad E. Meacham, Timothy Lynch Barton, the 59-year-old president of real estate development firm JMJ and CEO of real estate investment firm Carnegie Development, has been indicted on seven counts of wire fraud, one count of conspiracy to commit wire fraud, and one count of securities fraud.
Barton made his initial appearance before U.S. Magistrate Judge David L. Horan on September 26; he was arrested on September 20.
If convicted, Barton faces up to 20 years in federal prison for each count of wire fraud, up to 20 years in federal prison for conspiracy to commit wire fraud, and up to 20 years in federal prison for securities fraud.
He is also the subject of a parallel civil action filed by the U.S. Securities and Exchange Commission.
According to the indictment, Barton allegedly traveled to Hangzhou, China to pitch so-called real estate investment opportunities in Texas to Chinese investors.
His presentations included his supposed ties to U.S. politicians, as well as a builder, identified in documents as "S.W.", allegedly builder Steve Wall, whom he claimed would purchase the lots to build on and then sell to buyers. (You can get a glimpse of the hypnotic spell Barton surely wove, with his blue pinstripe suit, in this video posted by the DBJ.)
The properties were supposedly located in sought-after neighborhoods in Dallas Fort Worth. In reality, they consisted of hundreds of acres in Kaufman, Tarrant, Johnson, and Parker counties, and the cost was inflated by as much as 195 percent. In some instances, the properties were never actually purchased.
Investors were expected to contribute 80 percent of the funds necessary for the project. Barton said that he and others would contribute the remaining 20 percent, and claimed he wouldn't be taking a commission.

The payout consisted of annual interest payments for two years, followed by the return of their initial investment at the end of the second year.

For interest payments, Barton allegedly deployed the pyramid scheme routine, making interest payments to early investors with investor funds from later projects.
Despite his claim that no commission would be drawn, Barton allegedly drew commissions out of investors' funds.
He also funneled money into unrelated projects; used it to pay consultants; and even paid an unrelated AmEx bill.
In 2020, several Chinese investors tried to force JMJ, Barton's company, into Chapter 7 bankruptcy, which would have led to its liquidation and the investors possibly getting some money back. But in early September 2022, JMJ filed for Chapter 11, allowing the company to continue operations without liquidating their assets.
The Federal Bureau of Investigation's Dallas Field Office conducted the investigation. Assistant U.S. Attorney Renee Hunter is prosecuting the case.

CultureMap Emails Are Awesome
Get Dallas intel delivered daily.
We will not share or sell your email address.
An exciting sweet spot has opened on the east side of Dallas: Called Lubellas Patisserie, it's the much-anticipated bakery from pastry chef Maria Becerra and her husband Ismael Trejo Gonzalez, which is now open at 10323 Ferguson Rd., in the newly renovated '50s Casa View Center.
The bakery marked its grand opening on a pretty Sunday, September 25 with an enthusiastic turnout of family, friends, and neighbors, eager to cheer on a promising new local business and nosh on some expertly made baked treats.
Lubellas is named for their two daughters, who were present at a ribbon-cutting, with the two girls teaming to wield the ribbon-cutting scissors with Gonzalez offering an assist.
The ceremony took place at 12 noon - pushed back due to a line of enthusiastic customers.
"We weren't able to get to it at 10 am because we had a line as soon as we opened," Gonzalez said as he popped a champagne cork. "Customers come first."
The bakery is rendered in a pretty sky-blue-and-white color scheme, with a row of small two-top tables along the wall and a pastry case greeting you as soon as you enter.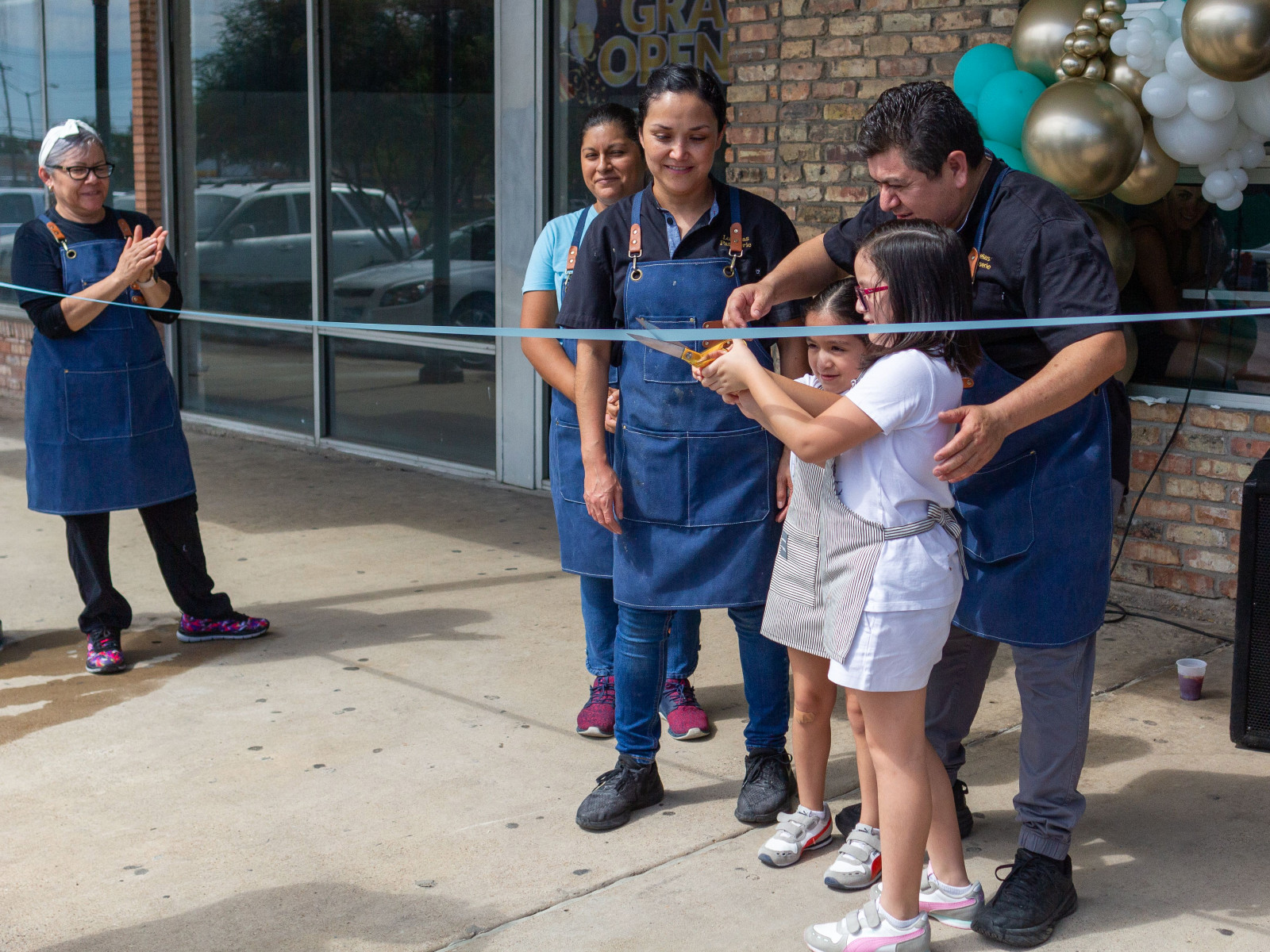 On Sunday, they had plain croissants, almond croissants, concha cookies, madeleines, chili-mango macarons, alfajores sandwich cookies dusted with powdered sugar, pecan diamont cookies, cinnamon rolls with generous icing, and muffins in a variety of flavors, plus sandwiches on croissants and crusty bread and quiche, tall and dense.
The bakery will also function as an ordering point for Becerra's decorated cakes made to order, plus will serve cake by the slice, pan dulce, and tres leches cakes, similar to the ones she bakes for Jose Restaurant in the Park Cities.
Becerra, who was nominated for a CultureMap Tastemaker Award in 2022 for Pastry Chef of the Year, and Gonzalez share many years in the restaurant industry, but this is their first shop which they opened.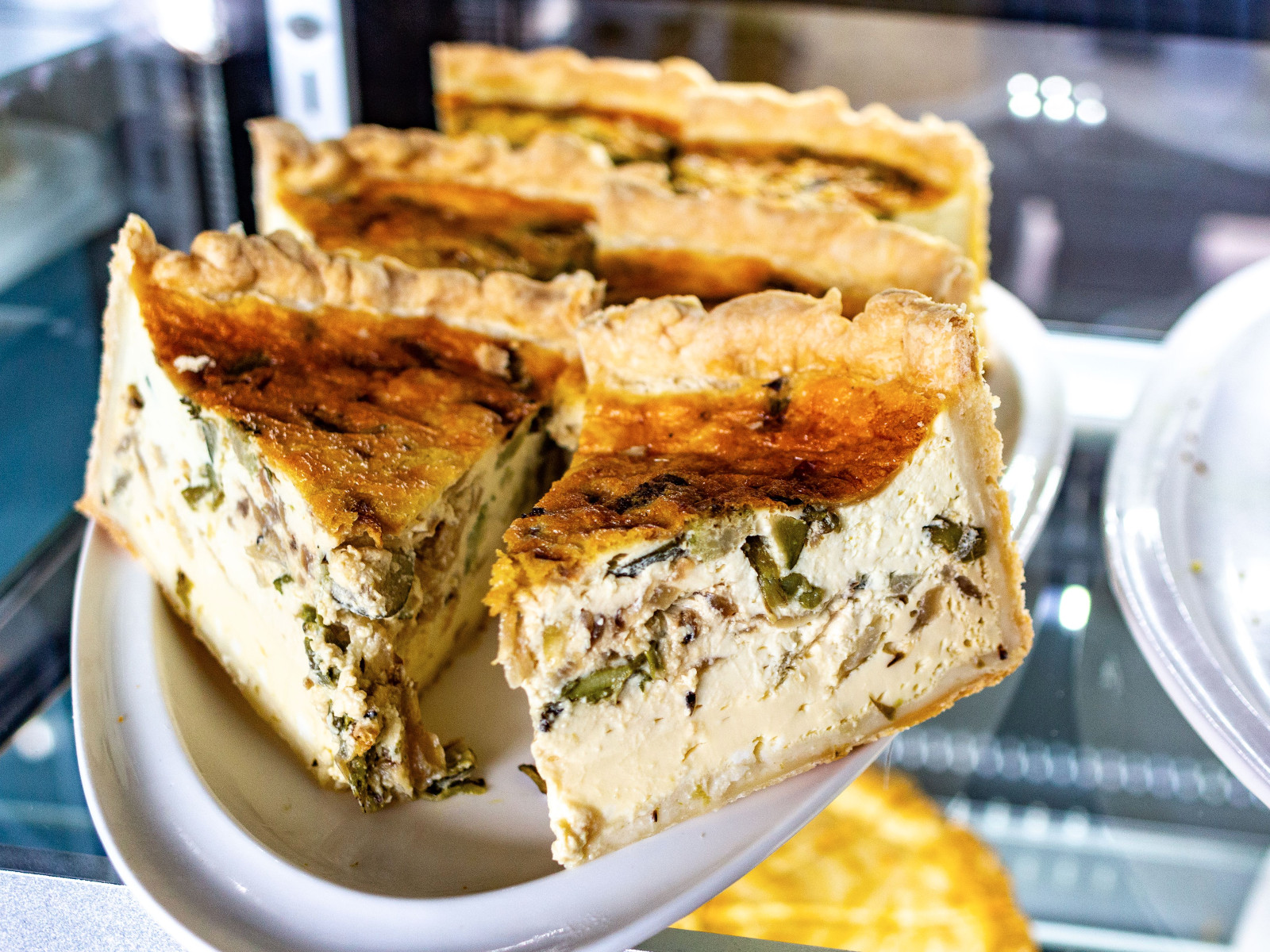 The opening is gratifying not only as the first venture from this husband-and-wife who share many years in the restaurant industry, but also is meaningful to a neighborhood that is enjoying glimmers of gentrification, perhaps best embodied by the buzzy new Starbucks community store which opened in the same center in August.

Casa View has experienced a ground shift in the past five years, ever since it was identified as one of the hottest markets in the U.S. to flip a house.
CultureMap Emails Are Awesome
Get Dallas intel delivered daily.
We will not share or sell your email address.
Loading Next Story...